Sku:

856713005395

Vendor: Skout's Honor
Skout's Honor - Probiotic Detangler Honeysuckle - 8oz
COLLECT DOODLE PERKS POINTS
On every regular priced item we sell in our store, get up to 20% cash back now!
Free Next Day Shipping in Calgary at $50 and elsewhere for $75
Astro Frequent Buyer products tracked from all online sales! Click the widget below to see your tracked cards and claim your FREEBIES ONLINE!
Our dog and cat hair detangler hydrates the skin and softens the coat for a more brushable, tangle-free pet. It contains avocado oil and topical probiotics that help support a healthy microbiome to defend against common skin problems such as itching, odor, dryness, dandruff, hot spots, yeast and excessive shedding.

Great For

Pets that need detangling, hydration, odor-control and itch relief. Also provides an added boost of probiotics in between bathing for pets that suffer from skin irritations due to environmental allergies.

 

Infused with a live, colony-forming probiotic kefir culture to bring out your pet's natural beauty. Suitable for all skin types and conditions.

 

Why Probiotics?

Good bacteria serve as a natural defense against the environmental damage and inflammation commonly associated with excessive shedding, itching, dryness, infection and odor. When applied to the skin, probiotics support the good bacteria that naturally calm inflammation and prevent bad bacteria from taking over.
View full details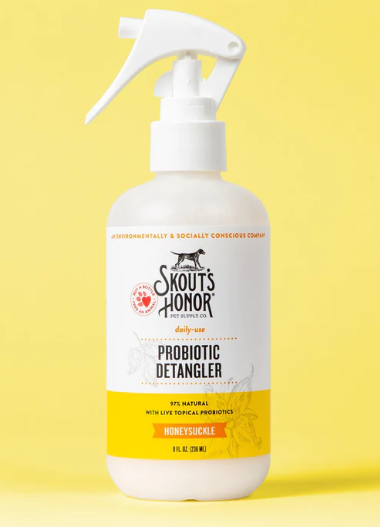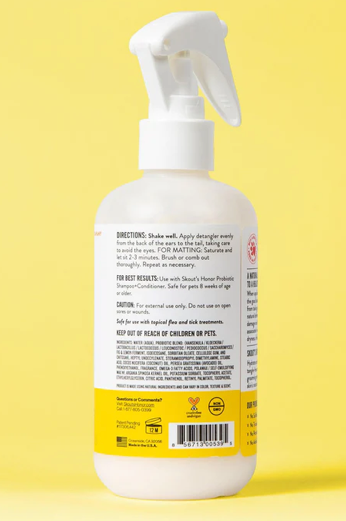 Skout's Honor - Probiotic Detangler Honeysuckle - 8oz