Sku:

0749403773455

Vendor: North Hound Life
North Hound Life - Concentrated Turkey Tail Mushroom - 40g
Spend

$50.00

to

FREE SHIPPING

in Calgary area
COLLECT DOODLE PERKS POINTS
On every regular priced item we sell in our store, get your cash back now!
Free Next Day Shipping in Calgary at $50 and elsewhere for $100
Astro Frequent Buyer products tracked from all online sales! Sign up by connecting your Astro account on the widget below and start earning FREE FOOD!
A whole food product for your dog. Concentrated organic Turkey Tail mushroom powder is powerhouse of a mushroom. It has the ability to boost your dog's immune system and balance the digestive system. Turkey Tail mushrooms are a natural source of antioxidants by protecting your dog's cells from oxidative stress. This wonderful mushroom is also used to help fight cancer, particularly hemangiosarcoma. It is known to improve your dog's survival time. Turkey Tail is full of phytonutrients and beta-glucans: Polysaccharide-K (PSK) and Polysaccharide-P (PSP).  To ensure the widest variety of polysacharides and triterpenes, the mushroom is organically grown on traditional logs and deadfall.
Note: Your dog only needs a tiny amount and my jar size reflects that. 

40 g | 100 mL in a recyclable glass jar



ABOUT CONCENTRATED TURKEY TAIL MUSHROOM

Known to help with:

Anti-viral
Boosting immune system
Anti-tumor (cancer fighting)
Anti-diabetic
Facilitates healing of kidney problems
Inflammation of urinary and digestive tract
Treats side effects of cortisone
Anti-fungal - fights yeast in your dog (itchy paws, hot spots, ear infections, etc) 
Decrease the effects of chemotherapy and radiation

INGREDIENTS

organic concentrated Turkey Tail (Coriolus versicolor) mushroom powder
Fruiting Body Only
Hot Water Extraction ratio: 8:1
Polysaccharides >30% and Triterpene >0.5%

GENERAL GUIDELINES

When introducing any new item to your dogs diet do so gradually. 

Suggested use – 1/16 tsp per 30 lbs - once a day
1 to 15 lbs = 1/16 tsp
16 to 30 lbs = 1/8 tsp
31 to 60 lbs = 3/16 tsp
61 to 100 lbs = 1/4 tsp
Store in a cool dry place away from humidity, heat, and direct light
Mushrooms are not that tasty for some dogs, so I recommend mixing with yogurt, kefir, bone broth, organic coconut oil or even butter (Dr. Ihor Basko recommendation) to help with the taste.

 
View full details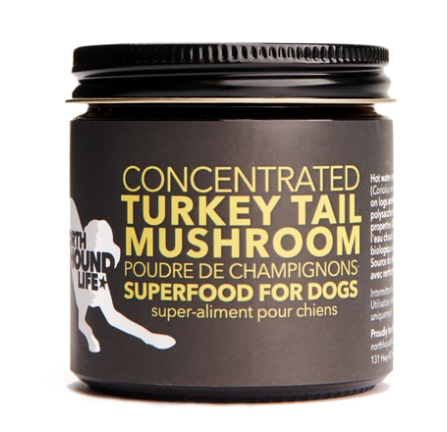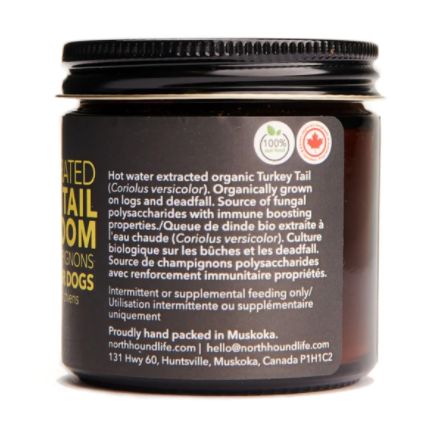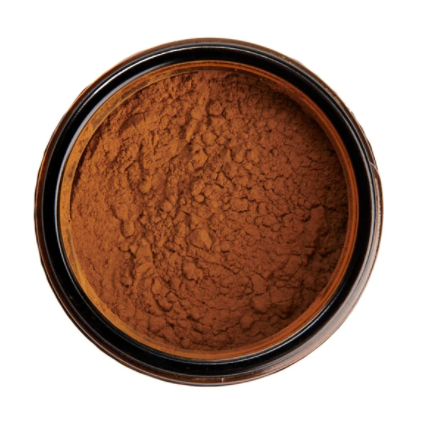 North Hound Life - Concentrated Turkey Tail Mushroom - 40g