Sku:

689076622271

Vendor: Carnivora
Carnivora - Whole Animal Dinners (with 5% veg & fruit)
COLLECT DOODLE PERKS POINTS
On every regular priced item we sell in our store, get up to 20% cash back now!
Free Next Day Shipping in Calgary at $50 and elsewhere for $75
Astro Frequent Buyer products tracked from all online sales! Click the widget below to see your tracked cards and claim your FREEBIES ONLINE!
Whole Animal Dinners with 5% Fruits & Veggies

The canine and feline's natural diet is whole prey animals with 5% fruits & veggies (includes finely ground romaine lettuce, bok choy, celery, carrots, apples, pears, blueberries). A whole prey carcass is low in carbohydrate and fat and high in animal protein, bulk, and roughage - not plant fiber, but less digestible parts, such as bone, cartilage, scales, fur, feather, skin, tendon, and teeth.  The dinners with fruits & veggies mix includes beef, chicken, pork and turkey options.

Whole Animal Dinners with 5% Fruits & Veggies are available in 4 lb packages or 25 lb cases.  Patties are 1/2 lb pre-portioned.
View full details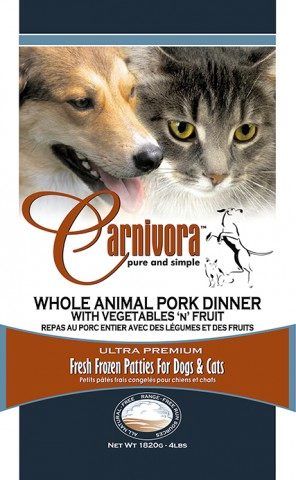 Carnivora - Whole Animal Dinners (with 5% veg & fruit)